A fast-growing Flintshire office seating company is using storage units to help it expand its operations across the UK.
Hood Seating, founded on the Deeside Industrial Estate by Trudy Gabriel-Rutt and Paul Rutt, from Dyserth, is now in its sixth year and has weathered the challenges posed by the pandemic.
Their ergonomically-designed seats are growing in popularity across the UK and Ireland and to meet the increasing demand, Hood Seating has recently acquired additional storage space at Lock Stock Self Storage's Saltney storage park.
Two giant 40-foot units, each with over 2,500 cubic feet of space, have been used to accommodate their growing inventory. This expansion allows Hood Seating to store over 350 chairs in each unit and the
accessibility and flexibility offered by Lock Stock's storage units has proved beneficial, especially during busy periods.
Commercial Manager Leon Darby, from Denbigh, said: "We needed more storage space to cope with demand, and my sister, Lisa, works for Lock Stock, and they've been able to provide us with storage units at their Deeside and Saltney sites.
"There's been a huge and welcome shift to employee well-being in business, and that's factored into having a good working environment, and employers are spending a lot more on making sure their seating is suitable, supportive, and safe."
"Our focus on employee well-being aligns with that growing trend in business asemployers recognise the importance of investing in suitable, supportive, and safe
seating options for their staff.
"Ensuring employee comfort and proper posture means companies can boost productivity and create happier and healthier workspaces.
"Hood Seating's chairs are manufactured to a high standard and specially designed to encourage movement, stimulate muscles, increase blood flow and relieve pressure points which aids concentration."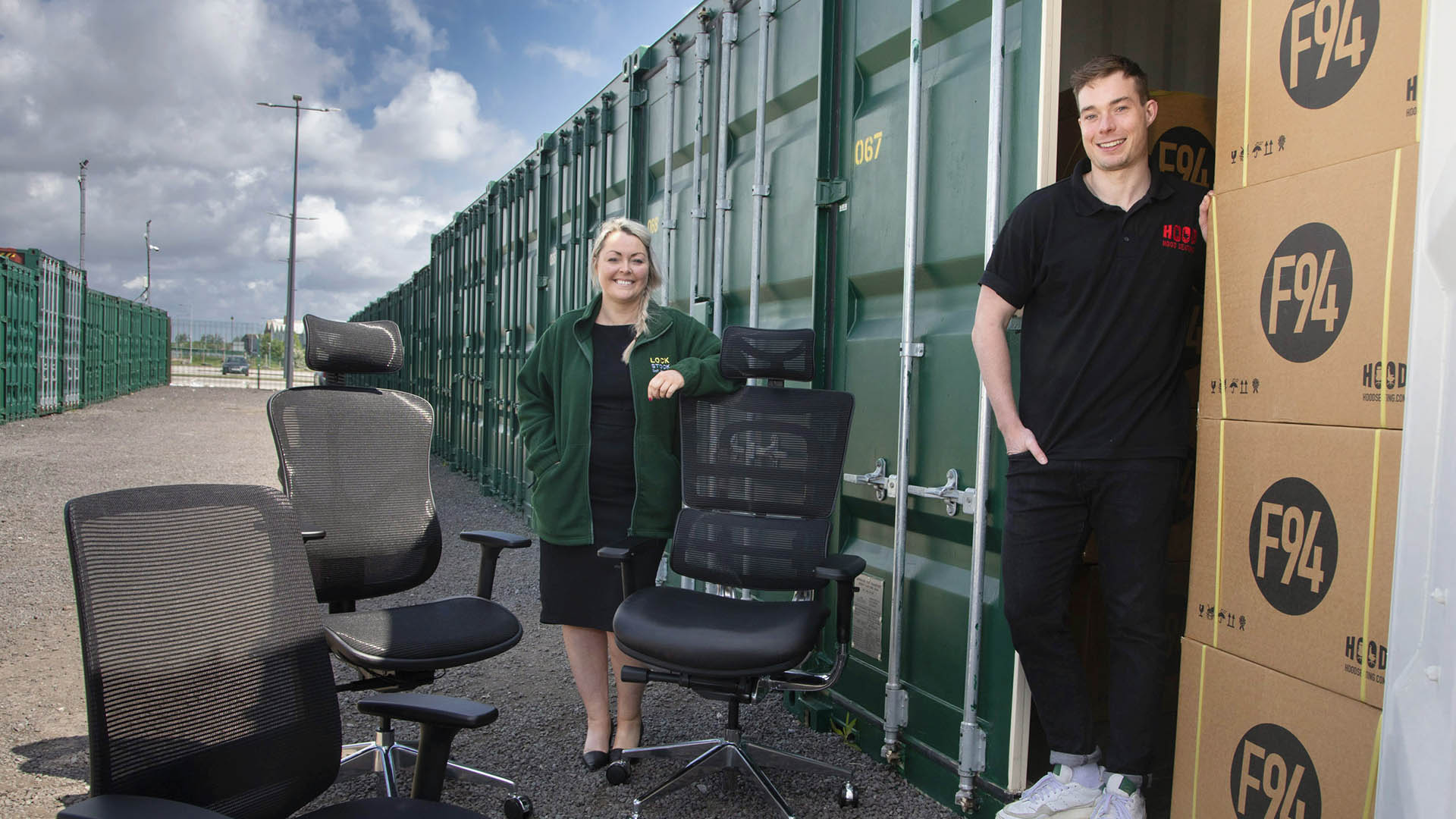 Lock Stock, founded in Denbigh in 1999, is the UK's largest containerised storage company with almost 4,500 units providing over four million cubic feet of space at 27 storage parks across North and Mid Wales and the border counties.
Our existing sites stretch from Holyhead and along the North Wales coast at Porthmadog, Caernarfon, Bangor, Llandudno, Abergele and Rhyl, on the Dee at Flint, Saltney and Deeside and inland at Denbigh, Mold, Buckley, Wrexham and Newtown in Powys, and at Oswestry and Shrewsbury in Shropshire.
We estimate that 60 per cent of our containers are rented by people moving house or keeping treasured possessions but up to 40 per cent, almost 2,000 of their containers are used by businesses for storing equipment, products and materials.
Leon's sister, Lock Stock sales consultant Lisa James, said: "Businesses use our sites because they have storage needs and we offer a flexible option with three different sizes of units they're ideal whether people are looking to scale up or to downsize.
"We respond to demand and where it is coming from and if it is from an area where we need more capacity then we look at opening somewhere new or extending our existing premises.
"This area is very important for us and we have sites at Saltney, Sandycroft, Flint, Mold and Buckley – our sites in Wrexham are very popular too.
"Our storage units are insulated and painted our distinctive dark green with each site very carefully planned so that our customers can drive up to their unit and access the site 24/7, 365 days a year via a coded electronic security gate.
"The sites are conveniently located in the heart of the local community and we offer super flexible deals so tenants only pay for the days they use the unit and there is no minimum term.
"It's not just the units that are green either. Many of our sites use solar-powered lighting as part of our own drive to be as renewable as possible and if it works well then we plan to roll it out across all of them.
"Even the storage units are recycled too after making the 12,000-mile sea journey from China."